North Seattle Chiropractor Dr. Lee M. Phelps
My Belief About Quacks
As a chiropractor I feel I must live the life I am preaching to others and set the standard of good health.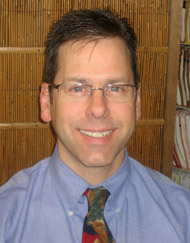 "Quacks"…That's what I believed Chiropractors were… And then I experienced the type of health changes that could occur with Chiropractic care. You see, for the first 16 years of my life I had suffered from severe allergies. I slept with my mouth wide open because I could not breathe through my nose, I was inoculated twice weekly with two injections for allergies, and I took all of the (currently) over the counter allergy/sinus medications, at the time they were all experimental, and continually had a runny nose, sinus headaches, and red eyes. Allergies were a constant irritant in my life, then a friend, a new Chiropractor, offered to give me an "adjustment"; I was not aware of the potential, and he insisted that it would cause absolutely no harm. My friend then educated me regarding how adjustments improve the ability of the body to more easily communicate with the brain.
So, there I was with my "quack" friend, running his hands on my spine and neck. Several evaluation steps later, my friend felt that there was indeed a "subluxation" in the area of my neck that would potentially control the ability of the internal environment of my body to better remain in balance with my external environment. He gave me an adjustment and immediately I knew my life was changed; for the first time in my life, I could breathe freely! I immediately decided that when the opportunity presented itself I would become a Chiropractor. Following several years of diversions, I matured enough to actually continue the quest, and now, I am an experienced Chiropractor with many patients who experience all types of miracles under my care.
My Chiropractic Journey
Upon completion of my undergraduate schooling, I attended Palmer College of Chiropractic, in Davenport, Iowa, graduating in February of 1991. "Palmer is to Chiropractic as Sterling is to Silver" was the main reason my choice was to attend the "fountainhead" school for my profession. Upon graduation I moved to Seattle and set up residence. Shortly after arriving, I began work with Doctor Abrams here at Abrams Chiropractic and have now been in this office for over 21 years! I expect that there will be a long time, and many more patients that I can help, before I slow down and visualize retiring.  In May 2011, Dr. Abrams retired and I purchased the clinic from him.
As is the requirement for continued licensure, I am in frequent courses upgrading my education. I have found that when you quit learning, you quit growing, and when you quit growing, you are stagnating. My objectives in caring for our patients are first to relieve pain, secondly to restore structural integrity, and thirdly to improve the health and well being of our patients to the best of my ability.
Although I am originally from 25 miles north of the big apple in New York, my family is mostly in the northwest these days. My wife, Mary, is originally from Washington D.C.; she is a registered cardiac nurse at Swedish Hospital and has been living in Washington State for over 25 years. We have a two dogs, Reno and Scout, who are adopted Brittany Spaniel/Springer Spaniel mix and yellow Labrador Retriever. I have family in Seattle, Alaska, as well as North Carolina. When I am not at work, I am often found fishing or otherwise spending time in the great outdoors, especially at my cabin in northeast Washington.
My Inspiration
I am frequently asked about how often I receive Chiropractic adjustments, I find that as a regular rule of thumb, I tend to be checked and adjusted weekly. Depending on my activities and what has been going on in my life, sometimes it is more and sometimes less. This allows me to be in the best possible condition for optimal communication between my brain and my body in order to provide the best possible care for others. I exercise regularly, performing calisthenics, walking and occasionally riding my bicycle as well as being a doctor of Chiropractic which is physically demanding. I eat well, get a lot of rest and take vitamin supplements on a daily basis. As a chiropractor I feel I must live the life I am preaching to others and set the standard of good health.
I give my best efforts at taking care of myself so that I can give the best I have to my patients. Give our office a call and we will answer any questions you may have regarding how you can benefit from the gift of Chiropractic.
Contact our North Seattle Chiropractic office now to schedule an appointment.
---
Quality Chiropractic care to those in the North Seattle neighborhoods of Greenwood, Phinney Ridge, Greenlake and Ballard.