Your Second Visit to Our Seattle Practice
Continuing Chiropractic Care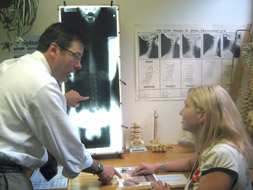 The second appointment at our office is typically about 45-60 minutes. When you arrive, the front desk staff will again greet you and guide you through your visit. Initially, we will have you watch another short video about what to expect during your report of findings. When the video is completed, the doctor will come in to meet with you.
Dr. Phelps will review your x-rays in detail with you, answer any questions you may have, and let you know if Chiropractic can help you. If Chiropractic can help you and is the right choice for you at this time, we will review some important facts about your body and outline a treatment plan for you. You will then receive your second adjustment.
After your chiropractic adjustment, your visit will almost be complete. You will head back to the front desk to pay your visit fee and to schedule the appointments according to you treatment plan. The front office staff will help you with these things and again, send you off with a smile!
Call our Seattle Chiropractic office now to schedule an appointment!
---
Quality Chiropractic care to those in the North Seattle neighborhoods of Greenwood, Phinney Ridge, Greenlake and Ballard.