Welcome to Abrams Chiropractic Clinic!
Comfortable Chiropractic Care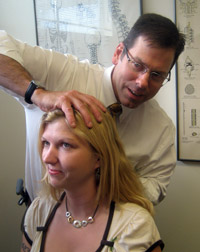 When you arrive for your first visit, you will be greeted by our friendly front office staff who will guide you through the first part of your visit and then help you tie up any loose ends at the end of your visit.
Initially, we will have you fill out some paperwork so we will know more about your condition, your health history, and how we can best get in touch with you. If you are seeking Chiropractic care because of an automobile accident or a work injury, please be sure to bring any and all information you have related to the injury. At this point, we will show you a brief video about Chiropractic care if you have not seen a chiropractor before. Then, we will escort you into an examination room where you will meet with one of our doctors.
Chiropractic Care Plan
The doctor will spend a few minutes consulting with you to find out about the reason for your visit to our office and ask a few questions about your health history. After this consultation is completed, an examination will be performed to determine how your spine and nervous system are involved in your health concern. If deemed necessary, x-rays will then be taken for a more complete picture of your body and your condition. Once the examination and x-rays are finished, the doctor will give you an adjustment. After the adjustment, the doctor will inform you of any home instructions and let you know when to schedule your next appointment. This concludes the majority of your visit.
On your way out, the front office staff will discuss your bill and any insurance or worker's compensation coverage you may have. At this point, we will schedule your next appointment for you and we'll send you off with a smile!
When you arrive for your first visit, plan to spend approximately 1.5 hours in our office. If you prefer to save a few minutes, fill out the paperwork beforehand and bring it with you. Click here to view the initial paperwork.
Contact our Seattle Chiropractic office now to schedule an appointment.
---
Quality Chiropractic care to those in the North Seattle neighborhoods of Greenwood, Phinney Ridge, Greenlake and Ballard.